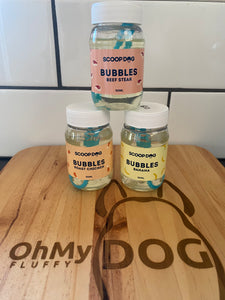 Scoop Dog Bubbles
Regular price $6.00 Sale
or make 4 interest-free payments of $1.50 NZD fortnightly with
More info
Roast Chicken - Who doesn't love the smell of roast chicken or the fun of playing with bubbles? Well, now they can come together with our exclusive Scoop Dog bubble formula. Made using plant based ingredients, our bubbles are non-toxic and biodegradable, so you can have peace of mind that your furry friends are safe and sound. Now, the only thing to worry about is whether or not you'll be able to keep up with all the happy snappers running around!
Beef Steak - Picture this: you and your pup, ready to frolic in a garden-full of scented bubbles. Our exclusive Scoop Dog bubble formula is the perfect way to enjoy some quality time with your four-legged bestie. Not only are our bubbles non-toxic, biodegradable and made using plant based ingredients – but they come with the ultimate bonus: a delightful aroma of roast chicken. 
Banana - Unleash your pup's inner child with our new Banana Scented Bubble Formula! Unlike traditional bubbles that contain harsh chemicals, our "homemade" formula is made up of plant-based, non-toxic and biodegradable ingredients. Not to mention it smells divine! We guarantee your dog will have a great time chasing down those bubbles with no worry – because safety always comes first!
Just remember to give the liquid some time to settle before letting your pooch embark on their wild bubble chase. Now let those happy snappers loose – 'cause there ain't no party like a bubble party!